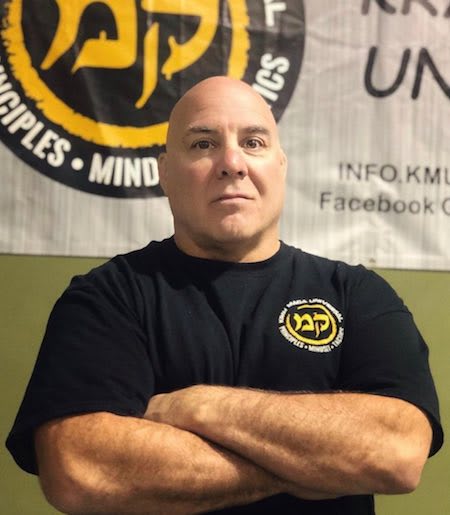 Ernie Kirk
Ernie is the U.S. Representative for Krav Maga from Wingate Institute, Netanya Israel (Birthplace of Krav Maga). He holds a 5th Degree Black Belt in Krav Maga, 6th in TKD, 5th in Hapkido, Black Belts in Goju Kai and Judo.
Certifications through Wingate include: Senior Instructor, Military Instructor Certification, Security & Close Protection Certification, Children's Instructor, was featured instructor at International Krav Maga Seminar at Wingate Institute and received recognition for efforts and teaching Krav Maga in America. Wingate is solely responsible for providing self-protection instructors to all combat Israeli Defense Forces (IDF) units. Mr. Kirk is the only American instructor recognized by Wingate with authority to certify others using the Wingate curriculum.
Mr. Ernie Kirk is the Lead Self Protection Instructor, USAF Air Advisor Academy (AFAAA), Joint Base McGuire-Dix-Lakehurst, NJ. In this position, Mr. Kirk is responsible for developing and providing tailored pre-deployment self-protection curriculum to all students attending USAAAA. The AFAAA mission is to support all services and students are comprised of active duty, reserve, and DAF civilians selected to support execution of DoD missions worldwide and in all threat conditions. His experience and expertise was instrumental in the creation of the USAF Air Advisor Academy's proprietary Self Protection curriculum and the Air Education Training Command (AETC) instructor certification process.
Mr. Kirk was charged with self-protection instructor development of other AFAAA cadre as well select personnel from other military and law enforcement units identified to provide this necessary skill set upon certification. Mr.Kirk's extensive knowledge of combatives and real world experience made him instrumental in refining and operationalizing the AFAAA Flight Deck Denial training module. Mr. Kirk has been personally selected for his professionalism and adaptability to lead Mobile Training Teams to deliver Self-Protection and Flight Deck Denial education and training to select DOD personnel. Mr. Kirk is Lead Instructor for Flight Deck Denial and frequently instructs Special Operations Military Personel. He is also part of a Mobile Training Team specifically designed for SOPEs (Special Operations Planning Exercises).
Other key positions and accomplishments of Mr. Kirks include being a charter member of instructors certified to teach Israeli based Krav Maga's self-protection system in the United States. He was "Train-the-Trainer" for both Law Enforcement and civilians for Krav Maga Worldwide, the largest Krav Maga organization in the U.S. during this period. Finally, he was selected as the Director Krav Maga Worldwide Advisory Board.